I can't believe Uncle Leon has passed from this life. The last 2 years for him has been a living hell for him. He just ran out of oxygen.. from smoking for many years. Uncle Leon will be greatly missed. He was my dad's younger brother. He was always the life of the party. I have many memories thru the years of him and Aunt Geneva.
We are having the memorial Saturday at Red Bud Park at the nutrition center. It is going to be a pot luck lunch. Now I must figure out a couple of dishes to make for this occasion. Everyone loves my pina colada cake I make. Am thinking a meat dish as well. I can remember back in the day when I hated to cook anything. Sometimes being a adult is a good thing.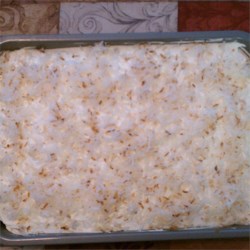 Doesn't this Pina Colada cake look awesome?