Rum Cake
Tonight I want to o some baking and cleaning in the kitchen. So found a recipe from all recipes for a easy rum cake.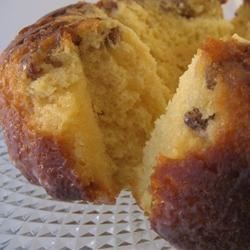 Ingredients
1 cup chopped walnuts
1 (18.25 ounce) package yellow cake mix
1/2 cup dark rum
4 eggs
1/2 cup water
1/2 cup vegetable oil
1 (3.5 ounce) package instant vanilla pudding mix
Glaze
1/2 cup butter
1/8 cup water
1/2 cup white sugar
1/4 cup rum
Directions
1.Preheat oven to 325 degrees F (165 degrees C). Grease and flour a 10 inch tube or Bundt pan. Sprinkle nuts over the bottom of the pan.
2.Mix together the cake mix, 1/2 cup dark rum, eggs, 1/2 cup water, oil, and vanilla pudding mix. Pour batter over the nuts in the pan.
3.Bake for 1 hour. Cool, and invert cake on a serving plate. Prick the top of the cake.
4.To Make The Glaze: Melt the butter in a saucepan. Stir in 1/8 cup water and the 1/2 cup sugar. Boil for 5 minutes, stirring constantly. Remove glaze from heat, and stir in 1/4 cup rum. Drizzle and smooth evenly over the top and sides.
Doesn't this sound awesome? I still have some rum left over from the rum balls Aaron and I made way back when. I never knew cooking with alcholic products could be so much fun!!
My cousin Blenda had Ms. Kylie yesterday morning she weighed 8 pounds 6 oz and was 19 1/2 inches long. She is a cutie!! Welcome to our crazy family!!
Tonight I also plan on straightening the house before Mr. C. gets home. I need to put finishing touches on the craft room as well. The week he is home I make sure to pick up and clean behind myself..the week he is gone it's like oh I will get to it later and let the house get messy. I so need to get out of that mindset!!
Guess I need to get off here and get some work done! Have a totally awesome day! Thanks for stopping by and visiting with me today!